The geese love our setting as much as we do! (Geese are the ancient Celtic symbol for the Holy Spirit.)
St. Patrick's was admitted as a parish in the Episcopal Diocese of Florida in February of 2008.  We are located in Northwest St. Johns County on State Road 13, on the left just 3 miles south of the Julington Creek Bridge.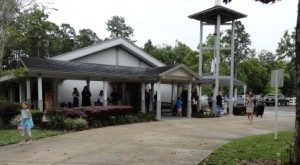 As Episcopalians, we affirm our Baptismal Covenant by proclaiming by word and example the Good News of God in Christ. We are committed to seeking  and serving Christ in all persons, striving for justice and peace among all people, and respecting the dignity of every human being.
Whether you are a life-long Episcopalian, coming from another Christian Church, or are seeking something previously missing in your life, you are welcome here. We hope you will find in us a community of faith and that we can help each other along the Journey.  Worship with us, study with us, play with us, pray with us, serve with us.  We welcome you to become a part of St. Patrick's.
In case you are wondering about the picture of the geese… the geese come to visit the pond next to St. Patrick's every so often and stay a few days… They must feel the welcoming and refreshing spirit here!
Sunday Worship is at 9:30AM
We look forward to welcoming you this Sunday!